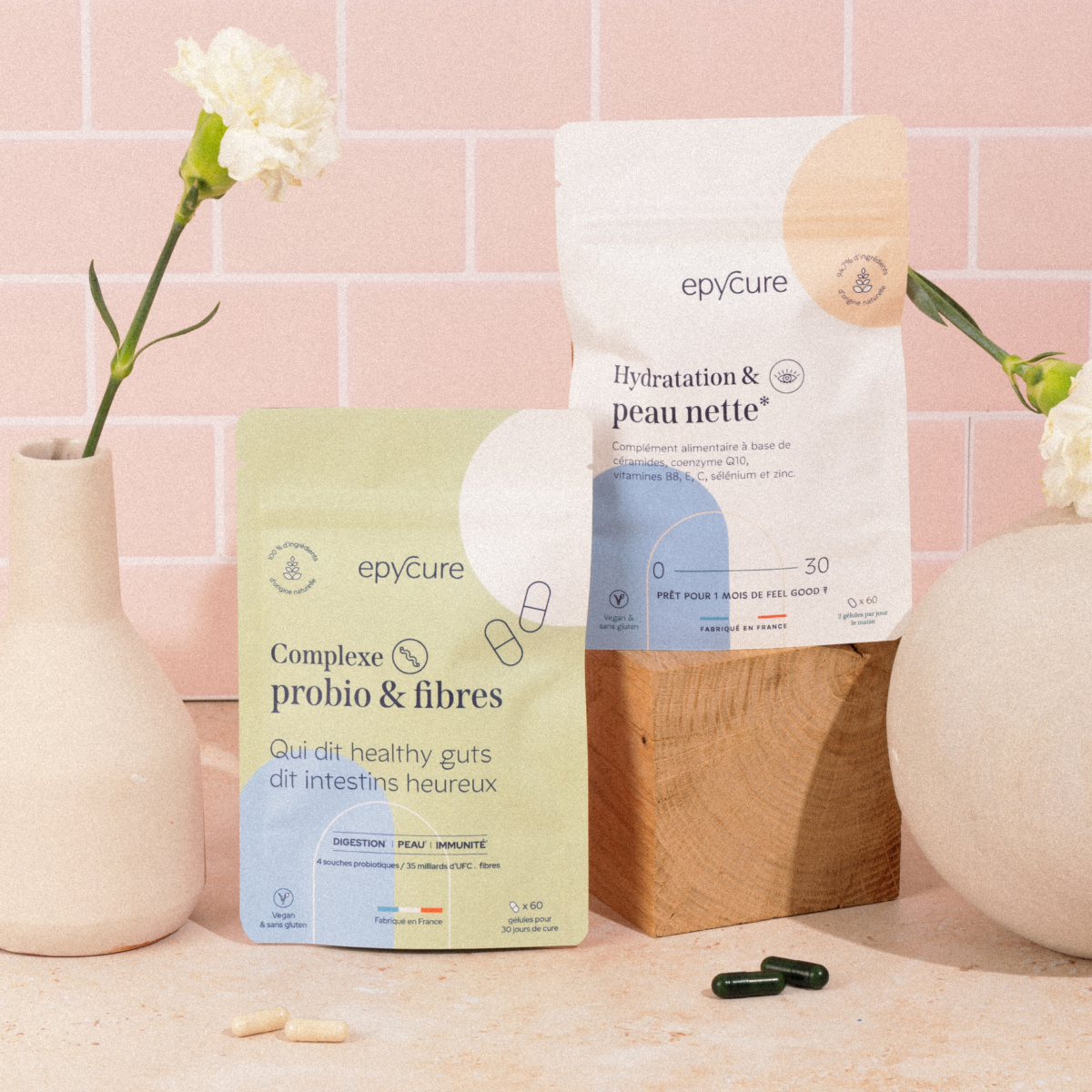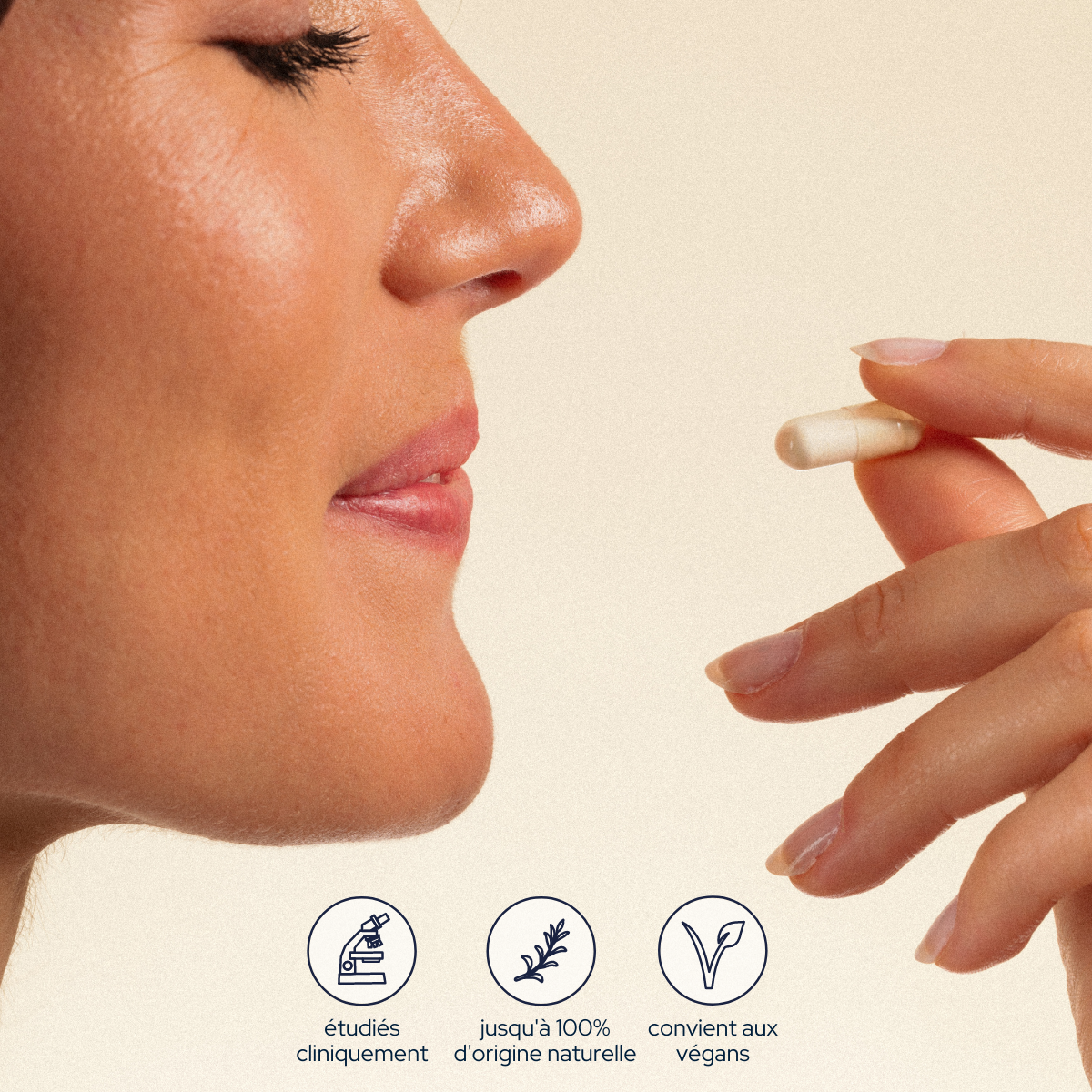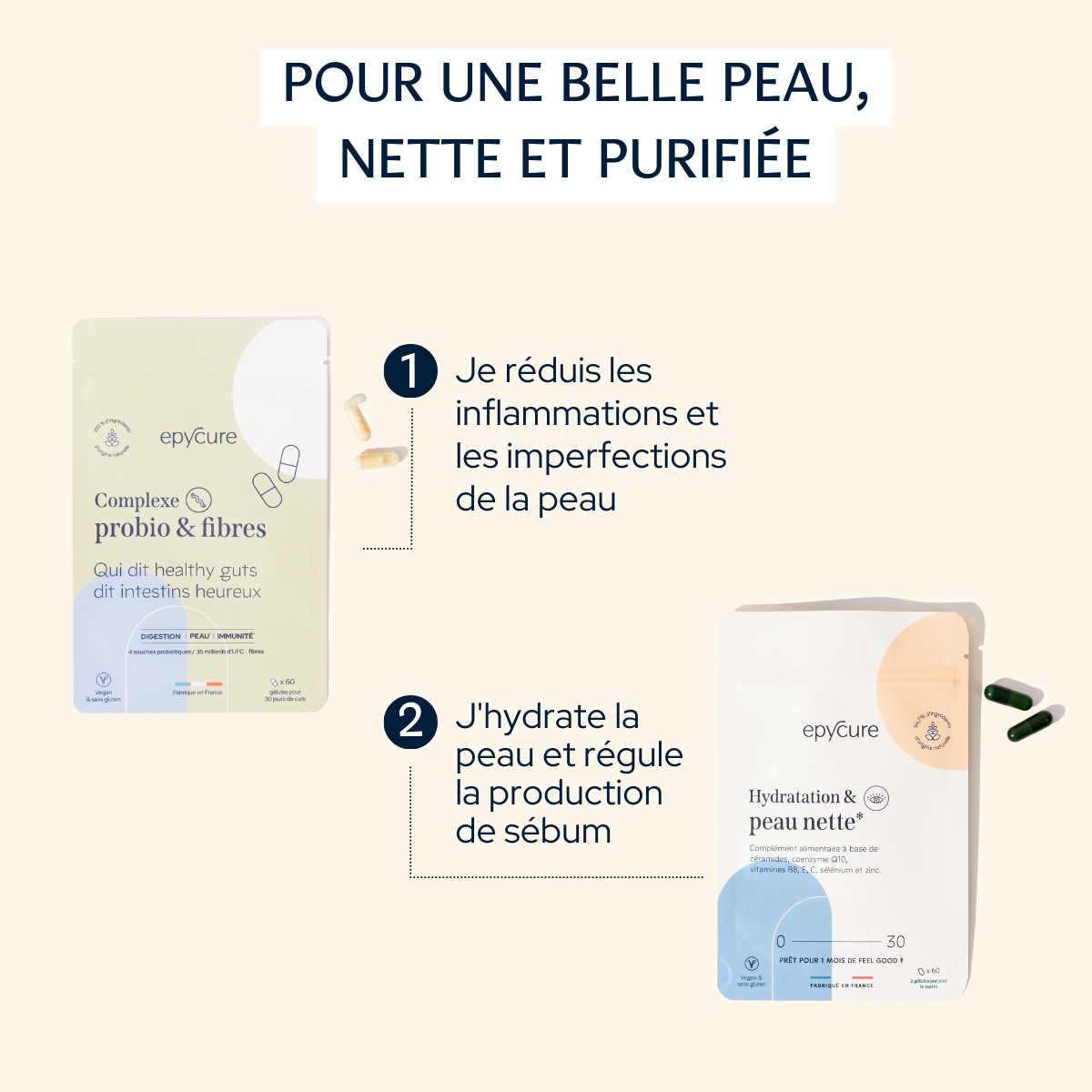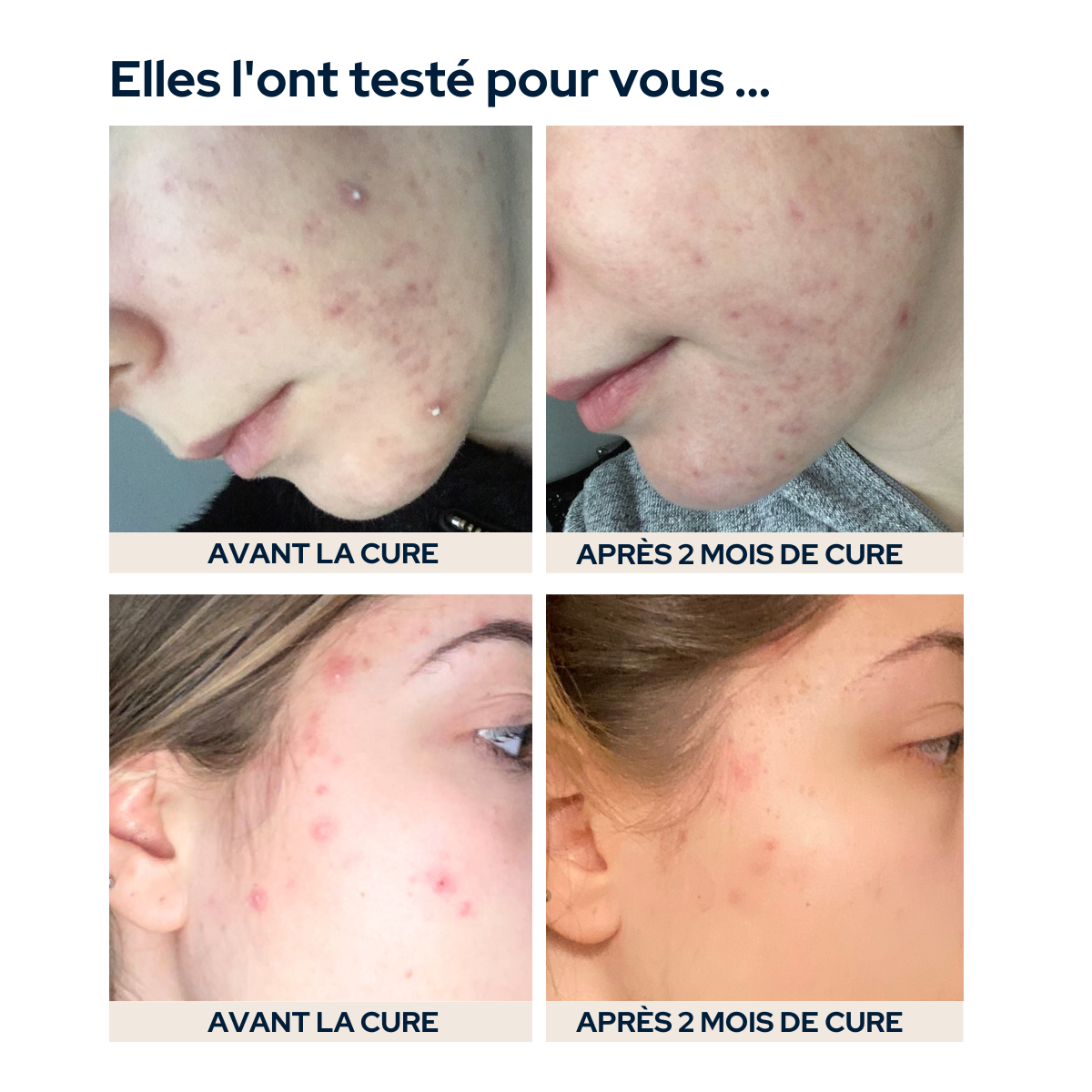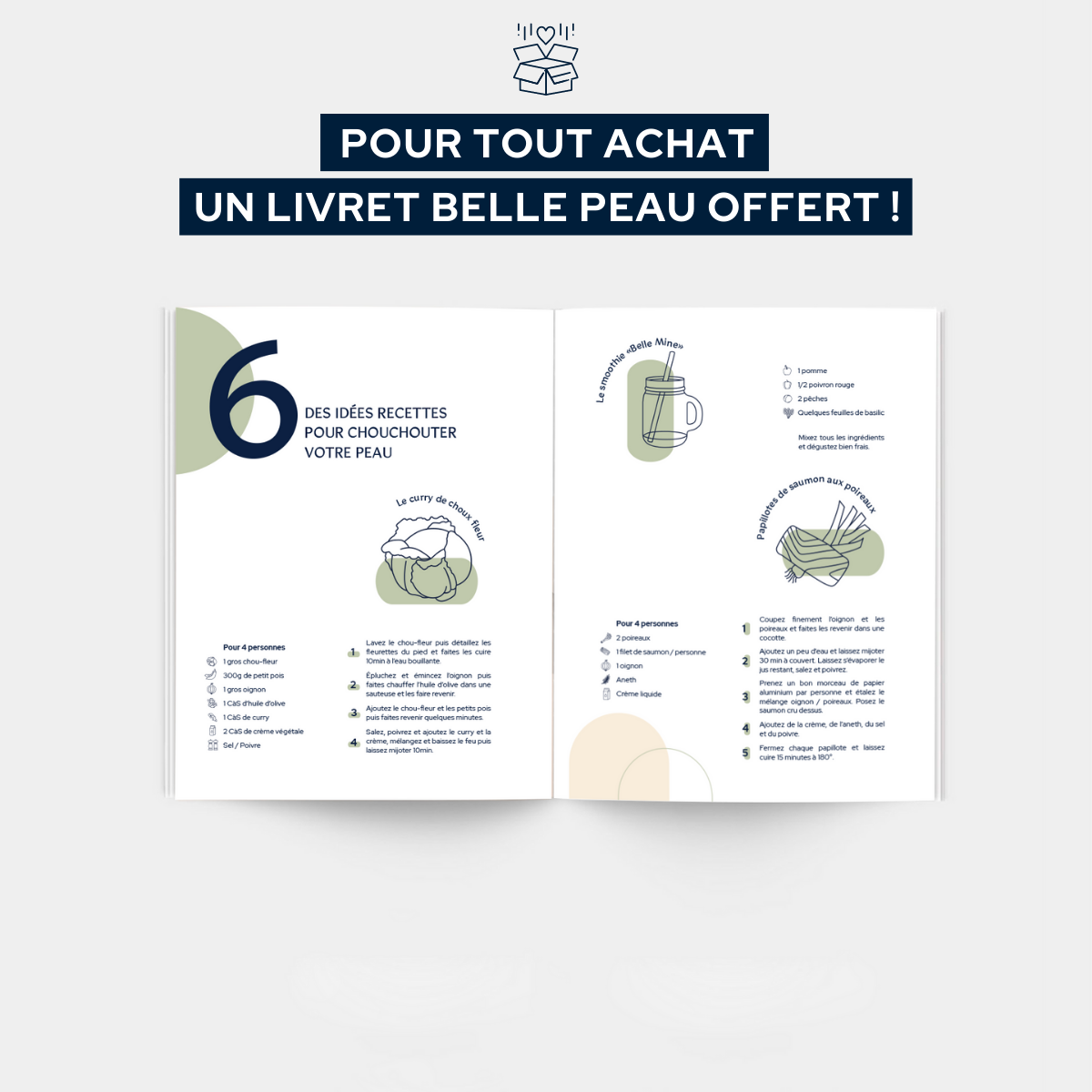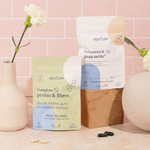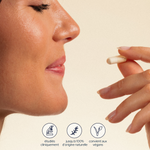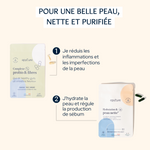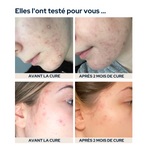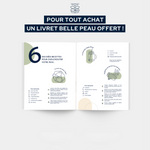 Anti-blemish pack
51,00€ 60,00€
Anti-redness action & reduction of inflammation find out more
Beautiful skin booklet offered!
DELIVERED EVERY MONTH
-20%
Without engagement
Cancel in one click
Delivered to your home automatically
Jusqu'à 100% d'origine naturelle
Routine végane
Faciles à avaler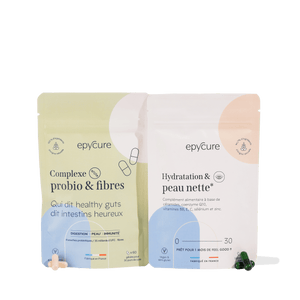 Anti-blemish pack
Expertise
Nos références scientifiques
Cure hydratation & peau nette
• Guillou, S., et al. « The Moisturizing Effect of a Wheat Extract Food Supplement on Women's Skin: A Randomized, Double-Blind Placebo-Controlled Trial ». International Journal of Cosmetic Science, vol. 33, no 2, 2011, p. 138‑
• Tessema, Efrem N., et al. « Potential Applications of Phyto-Derived Ceramides in Improving Epidermal Barrier Function ». Skin Pharmacology and Physiology, vol. 30, no 3, 2017, p. 115‑
• Bizot, Valérie, et al. « Improving Skin Hydration and Age-Related Symptoms by Oral Administration of Wheat Glucosylceramides and Digalactosyl Diglycerides: A Human Clinical Study ». Cosmetics, vol. 4, no 4, décembre 2017, p. 37.
• Žmitek, Katja, et al. « The Effect of Dietary Intake of Coenzyme Q10 on Skin Parameters and Condition: Results of a Randomised, Placebo-Controlled, Double-Blind Study ». BioFactors, vol. 43, no 1, 2017, p. 132‑
• Göransson, K., et al. « Oral Zinc in Acne Vulgaris: A Clinical and Methodological Study ». Acta Dermato-Venereologica, vol. 58, no 5, janvier 1978, p. 443‑

Cure complexe probio & fibres
• Rawalpally, Thimma R. « Pantothenic Acid ». Kirk-Othmer Encyclopedia of Chemical Technology, édité par John Wiley & Sons, Inc., John Wiley & Sons, Inc., 2000 Woolley, D. W. « Relationship of Pantothenic Acid and Inositol to Alopecia in Mice ». Proceedings of the Society for Experimental Biology and Medicine, vol. 46, no 4, avril 1941, p. 565‑69
• Pregliasco F, et al. A new chance of preventing winter diseases by the administration of synbiotic formulations. J Clin Gastroenterol. 2008 Sep;42 Suppl 3 Pt 2:S224-33.
TESTED AND APPROVED
14 personnes ont testé la cure pendant 2 mois
87%
trouve leur peau plus belle dès le premier mois
72%
trouvent que le nombre de boutons a bien diminué
83%
constatent avoir moins de rougeurs cutanées
100%
constatent une production de sébum normale sur leur peau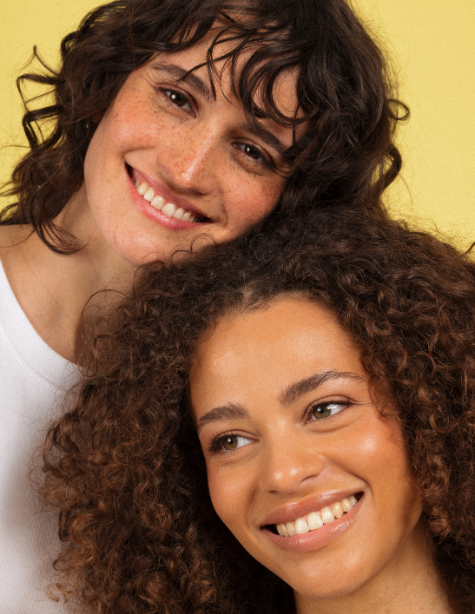 /5
There are no reviews for this item. If you have already purchased it, do not hesitate to leave us a review.
The reviews above are mainly about the product. For more feedback on the Epycure customer experience, go here .
Your frequently asked questions
Est-ce que le pack présente des contre-indications ou une précaution d'emploi particulière ?
La cure Hydratation & Peau Nette est déconseillé aux enfants de moins de 12 ans à cause de la teneur en vitamine A. Si vous êtes enceintes, vous désirez l'être (pour éviter un surdosage en vitamine A) ou vous êtes ménopausées (risque plus élevé d'ostéoporose en présence de vitamine A), demandez l'avis de votre médecin. Le complément alimentaire Healthy guts est déconseillé aux enfants de moins de 12 ans. En cas de doute, notamment en cas de grossesse, d'allaitement, de pathologies existantes ou la prise de médicaments, n'hésitez pas à demander conseil à votre médecin.
A quel moment de la journée je peux prendre cette routine ?
Quelle est l'origine des ingrédients ?