The number of food supplements on the market has increased considerably in recent years. As a result, today it is very complicated to select the one or those that best suit us. Especially since scams are developing: false advertising, misleading claims, questionable effectiveness and misleading slogans are common in this market. This is why you must be very careful when choosing your food supplement. Generally speaking, knowing how to read labels is a very good way to choose them and avoid these scams. The information on the labels of these products is numerous and is governed by European and French regulatory texts. Certain information must appear on the product packaging and others are optional or prohibited. We tell you everything on the supplement labels so that you are able to identify the essential information and thus buy these products with complete confidence.
Regulation of food supplements
As with all foods, food supplements are strictly regulated by several European and French texts. The packaging of these products must provide a whole series of mandatory information to guarantee consumer protection.
Since 2002, food supplements have had their own regulatory framework. Indeed, Directive 2002/46/EC gives a definition of food supplements and provides information on their labeling and marketing in Europe. This directive was transposed into French law by Decree No. 2006-352 relating to food supplements. It provides for a declaration of supplements to the DGCCRF (Directorate General for Competition, Consumption and Fraud Prevention) before they are placed on the market, specific labeling, a list of plants and other substances that can be used in these products. as well as maximum daily intakes for nutrients. Regulation (EC) No. 1924/2006 provides for mandatory information when using a nutritional or health claim. Finally, Regulation (EU) No. 1169/2011 guarantees consumer protection by requiring precise labeling of food supplements.
What information must appear on supplement labels?
As with any other food, there are numerous mandatory labeling indications for food supplements. So that you know how to locate the essential information on the packaging or label of your food supplement, we have grouped it right here for you. It is a way of controlling the reliability of the product or even the brand that offers it. Of course, all these notices must be clearly visible and legible on the pack or label.
The legal sales name must be specified on the packaging, i.e. the word "food supplement" must appear so that there is no ambiguity as to the nature of the product you are purchasing.
An indication relating to the nature of the active ingredients used : based on vitamins, minerals, plants, amino acids, essential oils, etc.
Product form : gummies, chewable tablets, powder, capsules, pills, etc.
Net quantity : for liquid products, the measurement must be indicated in units of volume (L, cl, ml) and for others in units of mass: g, mg. It is also possible to mention the number of units for more details.
The expiration date or minimum durability date must be specified on the packaging to allow consumers to know when the product is likely to lose its quality and be less effective.
Instructions for use : precautions for use (pregnant and breastfeeding women, children, possible interaction with a medication, etc.), advice for use (dosage, time of intake, etc.) and storage (keep at room temperature). ambient, away from light, in a dry place, etc.) must be mentioned to ensure the correct use of the product and the safety of the consumer.
The batch number : this indication makes it possible to group products according to a system established by the manufacturer, and thus facilitates the identification of products in the event of a defect, search or complaint.
Country of origin
The address and contact details of the person responsible for marketing
The trading name of the company
The complete list of ingredients : they must be listed in order of importance: the active ingredients most present in the product must appear at the beginning of the list. An indication relating to the nature of these components must be mentioned (in particular for food additives: for example pectin must be accompanied by a "gelling agent").
Allergens : if the product contains ingredients likely to cause allergic reactions, they must be mentioned. They must be highlighted in order to be clearly distinguished from the rest of the list of ingredients.
The recommended daily amount : the quantities of the selected ingredients must be mentioned per recommended daily portion. They must also be expressed as a percentage of the reference intake for a daily dose: for example, when we consume 2 gummies which contain 32 mg of vitamin C in total, this corresponds to 40% of the vitamin C intake recommended on a day.
A warning against exceeding the daily dose to limit the risk of overdose.
A warning that the products should be kept out of the reach of young children.
A statement to prevent food supplements from being used as substitutes for a varied diet.
What are the optional details?
Advice
In addition to highlighting the fact that food supplements should not be used in place of a healthy, varied and balanced diet, companies have the possibility of giving lifestyle advice on packaging with the aim of to enhance the effects of the product.
Nutritional and health claims
Dietary supplement labels may include nutritional or health claims that correspond to the particular properties of a dietary supplement. Communication relating to nutrition and health is subject to the provisions of European Regulation No. 1924/2006. Indeed, as soon as a brand wishes to highlight the benefits of its product, it must use the authorized claims appearing in this regulation. Nutrition claims concern any claim which states or suggests that a food has particular beneficial nutritional properties due to the energy it provides or the nutrients it contains: "rich in…", "source of…", "reduced in…", etc. Health claims concern any claim which asserts or suggests the existence of a relationship between a food product and health: proper functioning of the body, child development and health, weight control, etc.
What mentions are prohibited?
Furthermore, it is appropriate to take stock of the information that is prohibited on the labels or packaging of food supplements which could mislead the consumer when choosing their supplement. It is prohibited to use a nutritional or health claim that is not expressly authorized in the regulations because these false claims could mislead the end consumer. As a result, health claims concerning the treatment or prevention of disease are prohibited unless otherwise mentioned in the regulations cited above. Indeed, the consumption of food supplements, which is often based on self-medication, is fundamentally different from that of medicines and cannot therefore claim to prevent, treat or cure diseases. Finally, it is strictly prohibited to refer to the recommendations of a health professional and to suggest that the consumer runs a risk by not consuming the food supplement.
Little tips for choosing your food supplement
Finally, we give you some tips for choosing your food supplements. You can start by deciphering the product packaging or label, paying particular attention to certain information. All the specificities mentioned above must be clearly stated. Check that the word "food supplement" appears on the packaging, as does the complete composition of the product, the percentage of ingredients compared to the reference intakes, the daily dose not to be exceeded, the batch number, the date of expiry date, or the place of manufacture. You can also check that the advice for use and warnings are specified to know what the contraindications and precautions for use are (age from which it is possible to take a cure, pregnancy and breastfeeding, specific illness, etc. ). For greater safety and traceability, choose food supplements made in France which comply with French regulations that are stricter than in other countries. Also check that the brand's customer service is located in France. It will be easier for you to contact him if you have a complaint to make or if you need to ask questions about the product. Finally, if you want to buy on the internet, rely on the customer reviews available on the brand's website to see if their food supplements have a good reputation.
If you want additional information or if you have the slightest doubt about a product, go to your pharmacy for advice or ask your doctor directly for advice.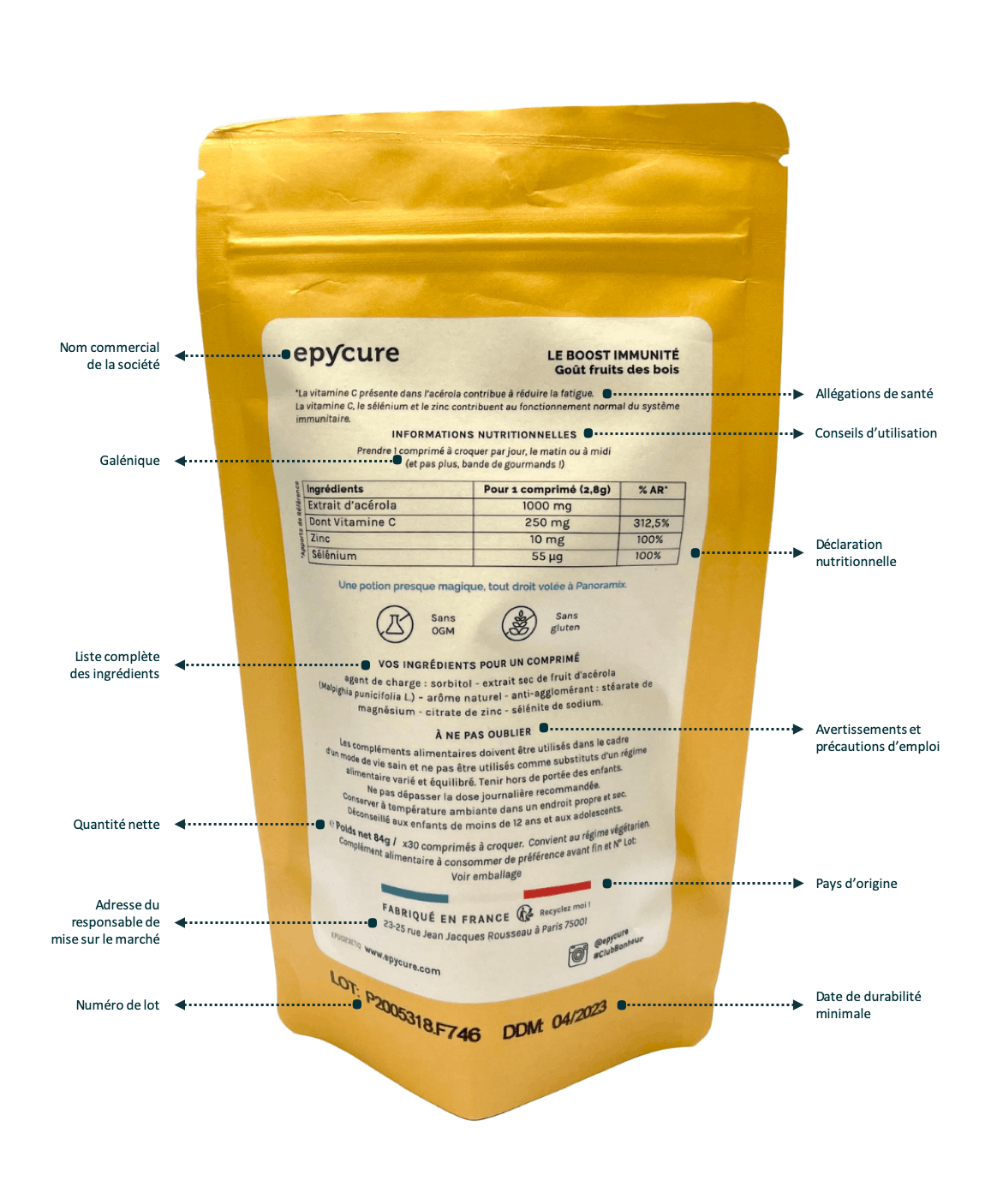 Bibliographic references
https://www.economie.gouv.fr/dgccrf/complements-alimentaires-quel-etiquetage
https://solidarites-sante.gouv.fr/sante-et-environnement/denrees-alimentaires/article/complements-alimentaires
https://www.synadiet.org/les-complements-alimentaires/etiquetage