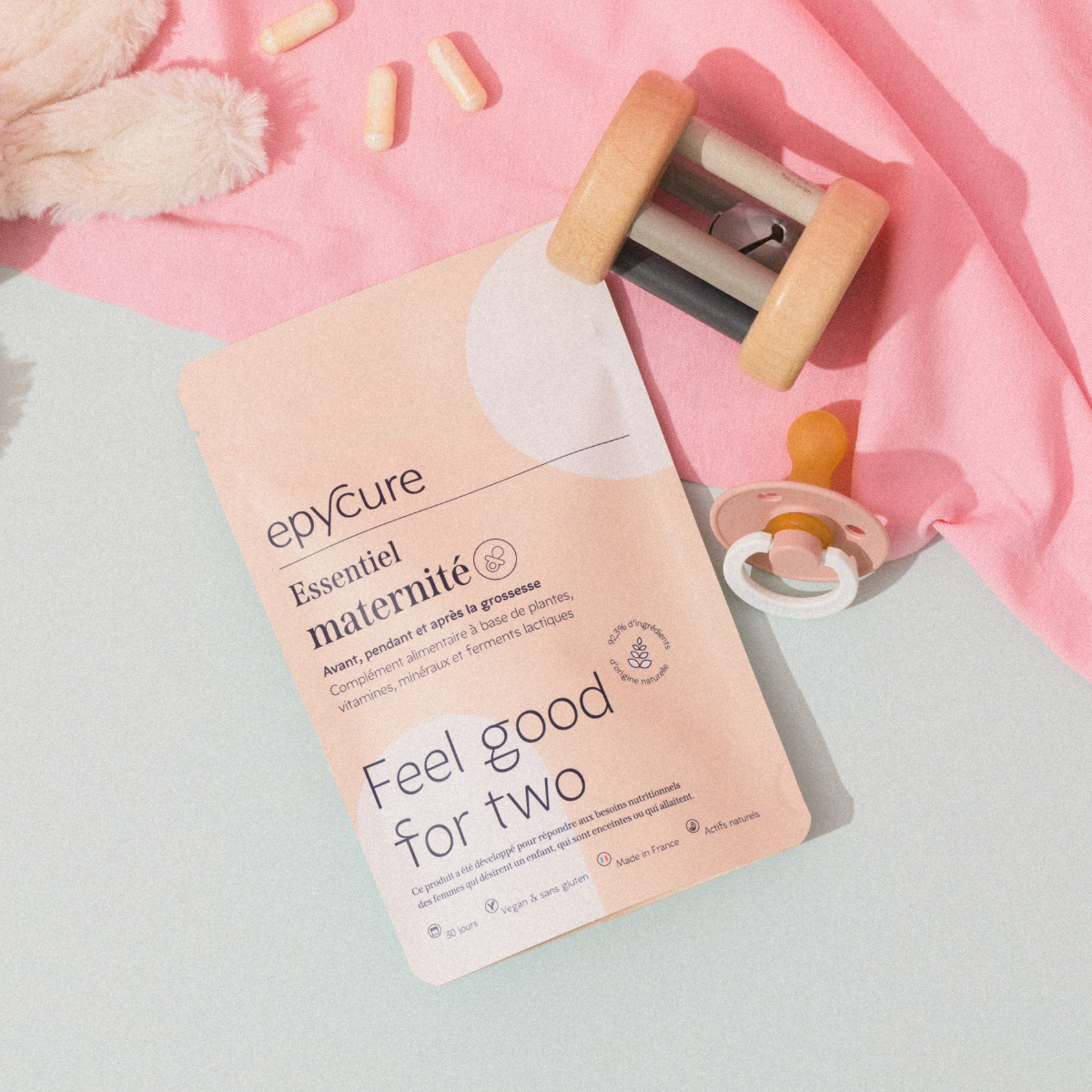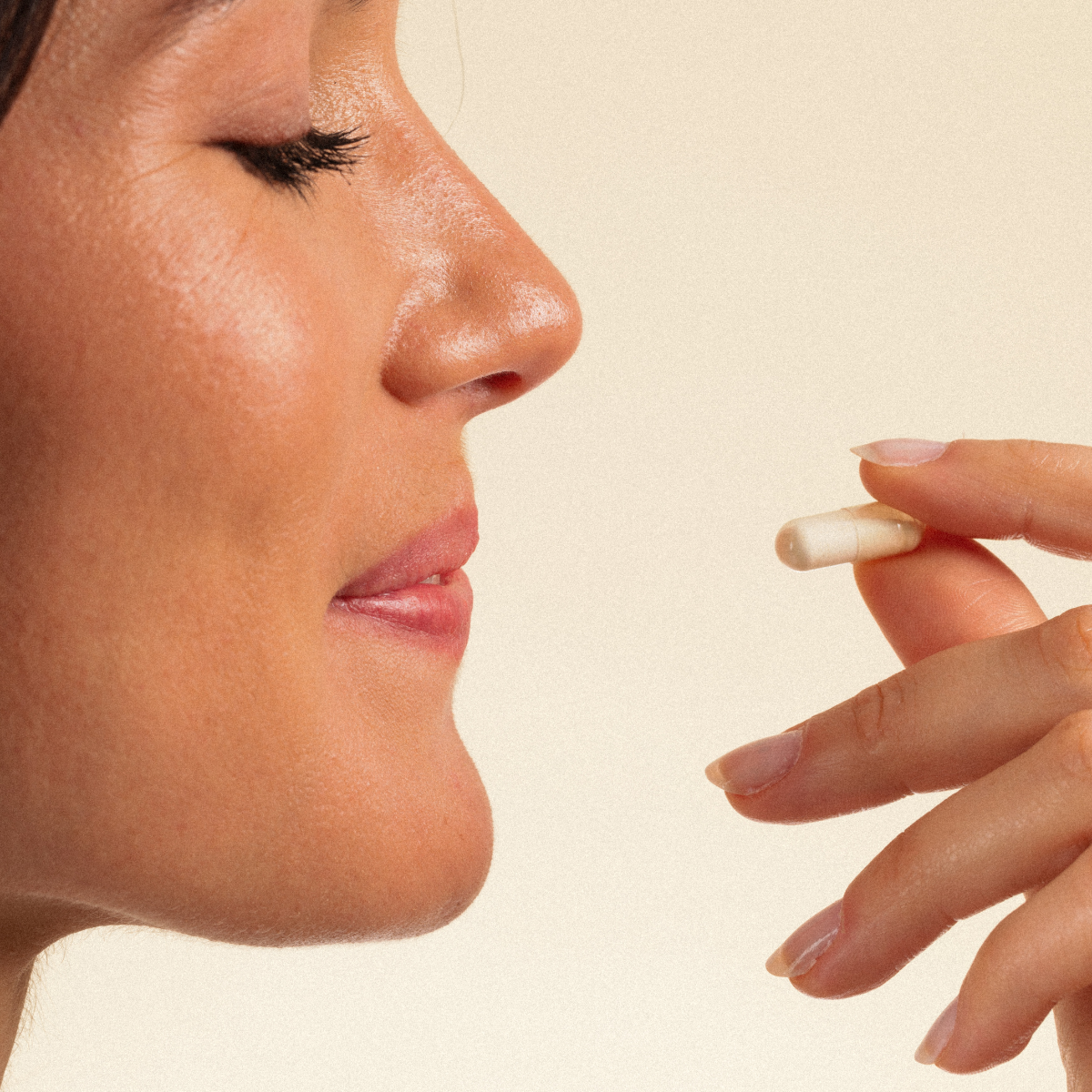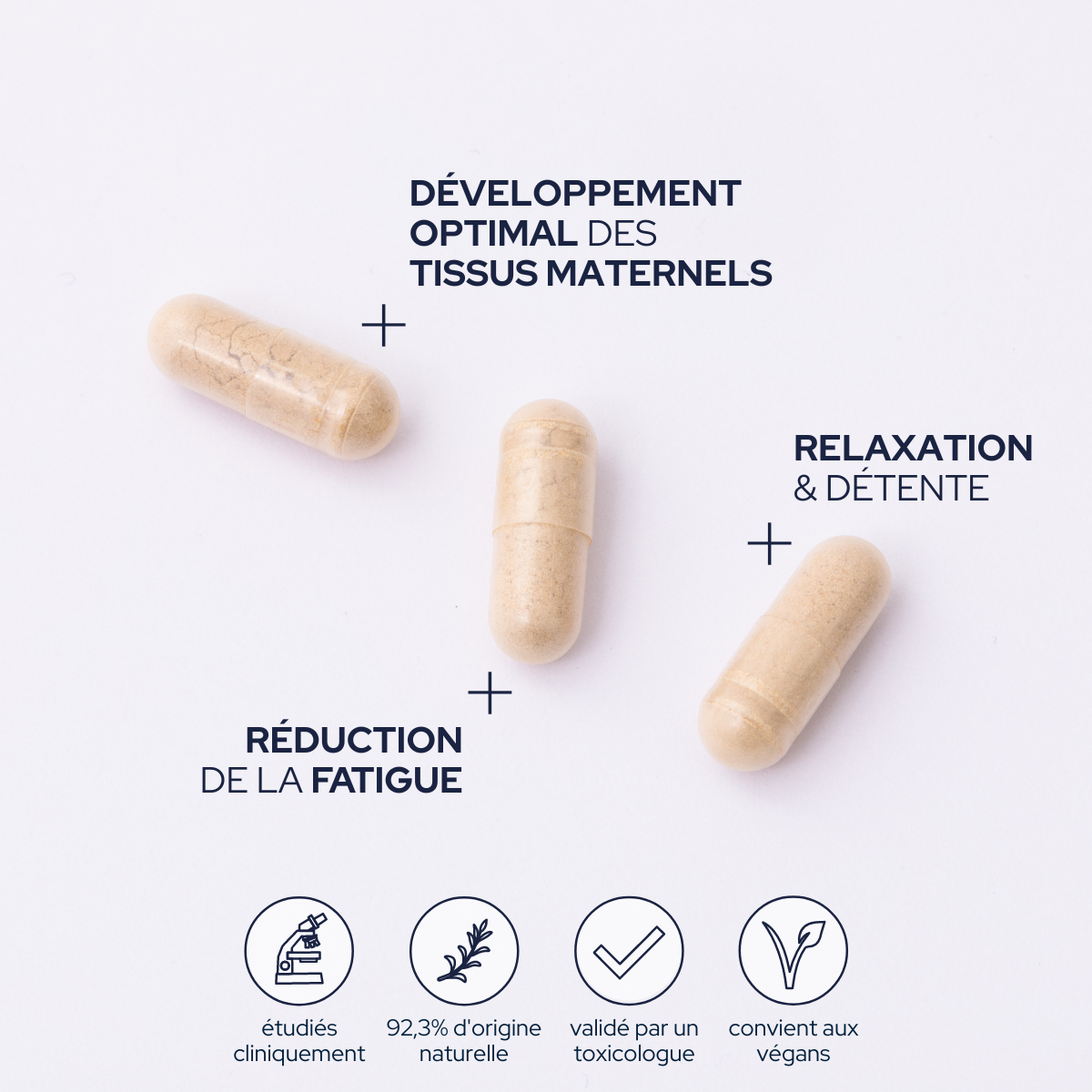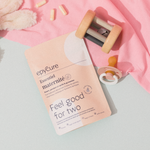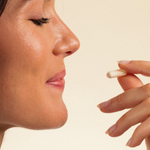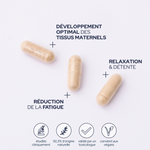 Essential maternity cure
72,90€ 81,00€
Well-being & nutritional support for (future) mothers find out more
DELIVERED EVERY MONTH
-20%
Without engagement
Cancel in one click
Delivered to your home automatically
92,3% d'origine naturelle
Cure végane
60 gélules gastro-résistantes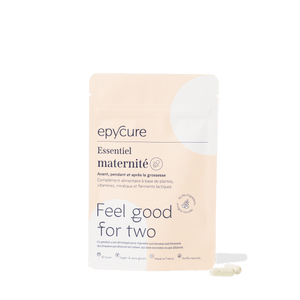 Essential maternity cure
Expertise
Nos références scientifiques
• Pärtty, Anna, et al. « A Possible Link between Early Probiotic Intervention and the Risk of Neuropsychiatric Disorders Later in Childhood: A Randomized Trial ». Pediatric Research, vol. 77, no 6, juin 2015, p. 823‑28
• Dezi A. et al. Probiotics and chronic diarrhea in the elderly. CIBUS, 2004; 8(2):58-64.
• MONTFORT Marion. L'utilisation des plantes médicinales lors de la grossesse : réalisation de fiches conseils pratiques. Université de Nantes. UFR sciences pharmaceutiques et biologiques. 2016. 104 p.
• Afssa. Le guide nutrition pendant et après la grossesse. Programme national nutrition santé. 2007. 52 p.
• Confédération suisse - Office fédéral de la santé publique. Alimentation durant la grossesse et la période d'allaitement. 2008. 24 p.
• Legendre G. et al. La supplémentation au cours de la grossesse : l'indispensable et l'inutile. In : La lettre du gynécologue. n°293. 2014. p. 40-43.
• Guillot Lucile. Maux bénins de la grossesse : conseils en phytothérapie à l'officine. Université Claude bernard - Lyon 1. 2017. 117 p.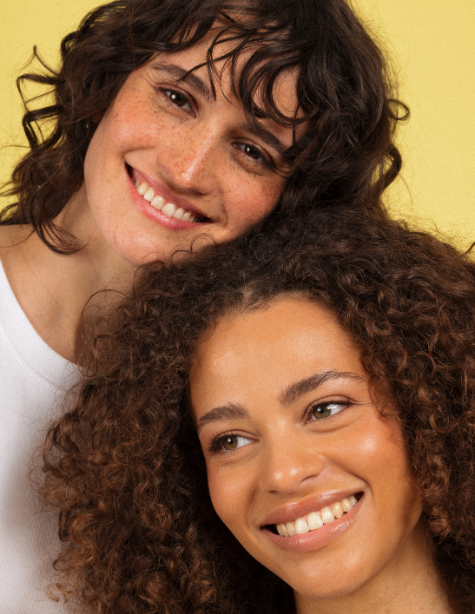 /5
There are no reviews for this item. If you have already purchased it, do not hesitate to leave us a review.
The reviews above are mainly about the product. For more feedback on the Epycure customer experience, go here .
Your frequently asked questions
Est-ce que le produit présente des contre-indications ou une précautions d'emploi particulières ?
Oui, il est déconseillé aux enfants de moins de 12 ans et aux adolescents ainsi qu'aux femmes sous traitement anti-coagulant ou souffrant de troubles de la thyroïde. Même si ce produit a été évalué par un expert toxicologue, si vous avez des traitements concomitants (médicaments ou compléments alimentaires) ou si vous avez des antécédents médicaux, demandez conseils à votre médecin en cas de doute.
À quel moment de la journée dois-je prendre ma cure ?
Est-ce que je peux prendre plus de 2 gélules par jour ?
Quelle est l'origine des ingrédients ?